Garden - RoboMower
Lawn & Garden Power Tool
RoboMower is an automatic lawn mower designed to mow your yard by itself. All you have to do is press a button and your RoboMower will cut your yard. It will work on any domestic lawn that is normally cut with a traditional electric or gas mower regardless of the shape and slope of the yard.

The RoboMower has three battery powered blades that create a 21 inch cutting path. The grass is cut into small clippings that are buried in the roots of the yard. The clippings eventually decompose and act like natural fertilizer so there is no need to remove the clippings.

RoboMower stays in your yard due to a special sensor that recognizes a standard wire that you install around the edge of your yard using small pegs every few meters which all is eventually covered by your grass and is unnoticeable in a couple of weeks. The wire is powered by a small battery and when your RoboMower senses the wire, it stays inside the area surrounded by the wire. The RL1000 has a Docking Station where the RoboMower stays. It will return to the docking station once the mowing is completed. The RL1000 operation is fully automated but it can be run manually like the RL850.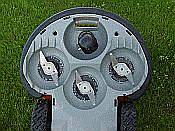 The RL1000 is suitable for a yard up to 16,000 square feet. Each mower measures 35" x 26" x 12.5". The basic unit weighs 50 pounds and the power pack weighs 28 pounds. These mowers have 6 settings at the front and 2 settings at the rear from a high cut at 3.25" to a low cut at 1". The blade speed is 5800 RPM and the mower is equal to 5.5 HP. It takes 20 hours to charge the RoboMower and the mower can work for approximately 2-3 hours. This is a power garden tool that will free up your time during the grass growing season.
Last Updated: 02/02/2023 04:12 PM - ID:632