Ecomposter Rolling Compost Tumbler
Decomposes Plant Material to Produce Compost in Just Weeks
With over 5 years in development, the new patented ECOmposter incorporates the best of known technologies to create top grade compost in as short a time frame as 4-6 weeks. The spherical shape, the air induction tubes, the optional base, and the dark forest green color help promote the 4 key elements of composting while making it fun for the entire family. The nutrient rich compost can be added to all gardens and potted plants as a natural fertilizer.
This unique composter is made of 100% recycled and recyclable materials and creates nutrient rich compost in as little as 4-6 weeks!
Designed to handle all compostable yard, garden, and kitchen waste, the ECOmposter has a sturdy and attractive design with easy open tops (smaller opening inside the larger opening).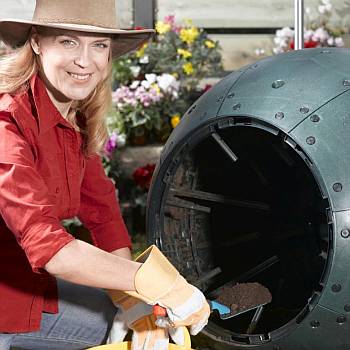 Features of Ecomposter Rolling Compost Tumbler
Made from 100% recycled plastic
Reduces landfill waste
Creates nutrient rich compost in as few as 4-6 weeks
Very sturdy -- Designed for all seasons
Assembles in 1-2 hours
Easy to read assembly instructions
Requires only household tools to assemble
Large 71 gallon capacity
Engineered in Israel
1 year warranty against manufacturer's defects
Diameter: 32 inches
Base Height: 9 inches
Color: Dark Green


This item has been discontinued. We apologize for any inconvenience.
Last Updated: 02/02/2023 04:12 PM - ID:4242