Sundance Cascade Solar Fountain - 3780WRM3
Fountain with Mosaic Tile Inlay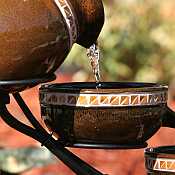 Click to enlarge
The Sundance Cascade Solar Fountain is a Chestnut Orange ceramic solar-powered 4-tier cascading fountain with a mosaic tile inlay design. The mosaic is hand-tiled into each bowl. The fountain uses a low voltage solar pump to constantly recirculate water from the main bowl reservoir, providing the continuous sound of running water. There is no wiring or operating costs. Just install, let the solar panel charge, and enjoy the soothing sounds of babbling water.
Solar lights contain solar cells that must receive direct sunlight in order to operate at night. Not recommended for wooded or shaded areas. Please note: This ceramic product is handmade and designs will vary from unit to unit.
Features of Sundance Cascade Solar Fountain
Operates in direct sunlight
Ceramic with mosaic tile inlay
Mosaic is hand-tiled into each bowl
Recycles the same water
4-tier cascading fountain
Powered by a separate solar panel (supplied)
Low voltage water pump with filter
10 ft (3 m) cable to solar panel
No wiring, simply install and enjoy
No operating costs
Dimensions: 16.5"L x 13.4"W x 20.5"H


This item has been discontinued. We apologize for any inconvenience.
Last Updated: 02/02/2023 04:12 PM - ID:5795