Tiki Spa Hut
Outdoor Tiki Spa Hut/ Concession Stand
Our Polynesian Bamboo Hut is perfect as a spa/hot tub enclosure. Can also be used commercially as a tropical-themed concession stand. Our Polynesian Bamboo Hut is delivered in a convenient panelized ready to assemble format which is securely packaged for shipment anywhere in the world. The two-tier roof adds a distinctive profile to a traditional roof style. The eight-panel bamboo roof is constructed with bamboo tile on top of solid bamboo plywood.
Easily accommodates standard spa and hot tubs while adding a touch of elegant tropical theme to your relaxation. Four-side counters can be lowered to either side of the wall depending on the layout of your spa. Our Polynesian Bamboo Hut can also be used commercially as a concession stand by camps, amusement parks, beach clubs, country clubs and swim clubs to name just a few.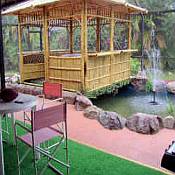 If you are looking to add some true island flair to your back yard then look no further than this Tahiti Natural Bamboo Tiki Style Bar Hut. This Tiki Style Bar Hut is perfect for entertaining your friends and guests. This hand crafted bar is made with processed Muso bamboo for strength and longevity. This tiki bar hut can become the center of your entertainment events and a perfect complement to your patio, outdoor kitchen, backyard or indoor / outdoor pool! The are also ideal for businesses who need to create a tropical theme setting.
Our Tahiti bamboo Tiki Style Bar Hut is designed with a lower recessed mixing counter and comes with classic professional bar counter design and a dry built-in stainless steel sink. This design means all drink making can be relegated to the counters below. As a result, drink making spills will not occur and space will not be taken up on the bar counter space where friends and family will be relaxing enjoying your Tiki Bar!
The Tiki Style Hut Bar provides generous shelf space underneath the counter and built in doors protect from dirt and insects. The counter top extends 8" over the cabinet wall to provide ample leg room and the leg rest rack is strategically located just above the footings. Glasses can be hung on the racks just above the counter top. The roofs panels extend 8" over the edge of the counter. The counter is 30" wide and 44" high. The roof is built with tropical elephant grass thatching on 1/4" bamboo plywood. We also offer bamboo bar stools to match your bamboo Tiki Bar Hut selection.
Assembly with at least three persons is required to put the big panels together, packages will be shipped via commercial trucking for curbside delivery only.
Features of Tiki Spa Hut/ Concession Stand
Natural Professionally Processed Bamboo
Open or Semi-enclosed Gate
Shipped with mostly pre-assembled pieces
Available Sizes: 8ft or 10ft Diameter
Height: 11ft
Warranty: 30 Days
Sold Out until 2023
Last Updated: 02/02/2023 04:32 PM - ID:5178