Frosted Dragonfly Solar Lantern - 3010WRM1
With White LED Light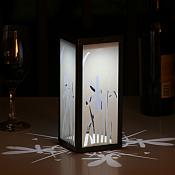 Night View
The Frosted Dragonfly Solar Lantern is an attractive light for your garden, patio, or deck. It casts a Dragonfly pattern on any surface for a unique look. It has a galvanized steel frame with an antique brown finish. This light automatically illuminates during darkness and provides up to 8 hours of light with a full day's charge from the sun.
Solar lights store the sun's energy during the day and release that stored energy at night. Solar-powered lights are a perfect match for most situations and include a long lasting Hi-Tech solar panel. Solar Lighting does not require any wiring, so you will not have to tear up any of your gardens, lawns, or landscaping to install them. Thanks to the increasing popularity of solar lighting for accent and security, there is a larger variety of designs and styles available.
Each solar light comes complete with its own rechargeable batteries, and an on/off switch to contol the light.
Solar lights contain solar cells that must receive direct sunlight in order to operate at night. Not recommended for wooded or shaded areas.


Features of Frosted Dragonfly Solar Lantern
Price is for one light only
Casts dragonfly pattern on any surface
Decorative lighting ideal for tabletops for your
garden, patio, or deck
Dimension: 5.83" L x 5.83" W x 11.02" H
On/off switch to control light
Automatically illuminates during darkness
Powered by an integral solar panel
Energy-saving white LED
Up to 8 hours of light each night when fully
charged
Replaceable rechargeable Ni-MH battery
No wiring -- simply install and enjoy
No operating costs


This item has been discontinued. We apologize for any inconvenience.
Last Updated: 02/02/2023 04:20 PM - ID:3866