Square Solar Accent Path Light
Solar Garden Lights
This Solar Square Accent Path Light is an attractive yet efficient way to light your garden, pathway, or driveway. Solar lights store the sun's energy during the day and release that stored energy at night. Solar-powered lights are a perfect match for most situations and include a long lasting Hi-Tech solar panel. Solar Lighting does not require any wiring, so you will not have to tear up any of your gardens, lawns, or landscaping to install them. Thanks to the increasing popularity of solar lighting for accent and security, there is a larger variety of designs and styles available.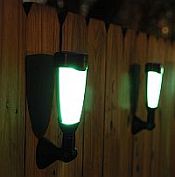 Click to Enlarge
This light is available as a one sided light or two sided light. The double sided, dual lens, light provides 360 degrees of lighting and is the perfect alternative for an area where more light is needed such as a walk way. The single sided light provides 180 degrees of lighting and is great for placing against walls.
Each solar light comes complete with its own rechargeable batteries and ground stake for quick and easy installation. The lights are totally weatherproof and suitable for year round use.
Solar lights contain solar cells that must receive direct sunlight in order to operate at night. Not recommended for wooded or shaded areas.


Please make sure to choose the color you are interested in and if you would like the one or two sided lights!!


Features of Square Solar Path Light
Rechargeable Batteries Included
Long Lasting Hi-Tech Solar Panel
Each Light Comes With 4 Different Mounting Options : Ground, Wall, Deck or Free Standing
Up to 15 Hours Run Time with a Full Single Day Charge
All Hardware and Instructions Included
No Wiring Needed
3 Available LED Colors : White, Blue, or Amber
SOLD IN CASE PACKS ONLY. THERE ARE 6 LIGHTS IN EACH CASE. CANNOT MIX AND MATCH COLORS.


This item has been discontinued. We apologize for any inconvenience.
Last Updated: 02/02/2023 04:19 PM - ID:2737