Solar Lights - Double Solar Spot Lights
Solar Garden Lights
Solar Lights are the easiest most inexpensive way to light your yard, pathway, garden, pond or swimming pool. Solar lights are generally inexpensive, but their advantage is that you don't have to run any wiring for them. As long as the solar panel gets direct sunlight, you can install most solar lights in about 15 seconds without the added cost of electricity every month. Our Single Solar Spot Lights super spot LED bulb shines a bright beam of light for increased security and safety.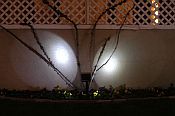 Click to Enlarge
Solar lights store the suns energy during the day and release that stored energy at night. Solar-powered lights are a perfect match for most situations. Solar Lighting does not require any wiring, so you will not have to tear up any of your gardens, lawns or landscaping. With the increasing popularity of solar lighting for accent and security, there is a larger variety of designs and styles available.
Install our solar light fixtures by simply pushing the sharpened X-pronged stake into your yard or garden. Each solar light comes complete with its own photocell to turn it on at dusk and off at dawn. The lights are totally weatherproof and suitable for year 'round use. Our Designer Series will even illuminate on a cloudy day as their high quality solar cells gather enough charge for them to operate normally. The Copper finish solar lights come with a 2 year warranty
Solar lights will not operate in a shady area. Their solar cells must receive direct sunlight. Not recommended for wooded or shaded areas.
Features of Double Solar Spot Light
Spot lights: 4.5" long x 3.5" wide x 12.75" high
Solar panel: 8" long x 6" wide x 21.75" high
Brass Frame, Copper Finish will not rust or corrode
Commercial Quality Construction
Adjustable Light Heads
Adjustable large, efficient solar cells
Premium NiCAD Rechargeable Batteries
2 pronged stake
2 year warranty


This item has been discontinued. We apologize for any inconvenience.
Last Updated: 02/02/2023 04:18 PM - ID:1312