Home
> Infrared Silver Series Patio Heater
Infrared Silver Series Patio Heater
Outdoor/Indoor Quartz Radiant Infrared Heater
This UL rated indoor/outdoor quartz heater only warms the people and objects and not the air in between which makes them ideal for outdoor use during those colder fall and winter months. Extend your outdoor entertaining and cookouts longer than ever before. Keep your guests and customers warm and cozy throughout the fall and winter.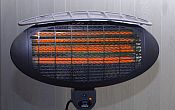 Silver Series Radiant Heater
Outdoor area heating can keep customers coming back to your patio again and again when it is warm enough to enjoy the outdoors at their favorite restaurant or pub. The Silver Series quartz radiant heater can deliver heat almost anywhere it is desired. Everyone is using their backyard, patio and deck to entertain more than ever and with warm radiant instant heat there is virtually no limit as to the time of year you want to have friends and family over for a cookout or backyard party.
Ideal for outdoor as well as indoor heating applications including smoking or dining areas, patios, balconies or sidewalk cafes. Ideal indoor applications include spot heating in factories, showrooms, animal enclosures, garages, storage rooms or any other indoor open areas.
This heater should not be used in the rain, snow or close to any body of water
Features of Infrared Silver Series Patio Heater
Dimensions: 20"L x 72"H x 20"W
Protective hood, adjustable height and head angle
Adjustable Height options from 51" to 80"
7ft electrical cord
(3) 500 watt elements, 3 heat elements
500, 1,000 or 1,500 watt output
115 volts, 60 Hz, 1500 watts max, 12.5 amps
Powder coated steel floor stand with weighted base
Swivel head / angles up or down with adjustment knob
Safety Tip Switch and Thermostat
Features of Benefits:
Suitable for indoor and outdoor use
Pennies a day to operate
No Propane or gas means no fumes or refills
Radiant, directional heat
Durable weatherproof casing
Instant heat within seconds
Heats people and objects, not the air around them


This item has been discontinued. We apologize for any inconvenience.
Last Updated: 02/02/2023 04:16 PM - ID:1714