Heat Strip Radiant Outdoor Patio Heater
High Intensity Electric Radiant Heater - 76-3/4 wide
The HeatStrip® is the new shape of outdoor and indoor warmth. A sleek, subtle and reliable radiant heater this is the perfect low profile heater for a variety of uses. A high intensity electric outdoor radiant heater suitable for tough indoor and outdoor heating applications.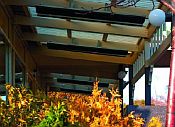 HeatStrip mounted on Patio Ceiling
Ideal for outdoor, undercover applications including smoking or dining areas, patios, balconies or sidewalk cafes. Ideal indoor applications include spot heating in factories, showrooms, animal enclosures or any other indoor open areas. Area heated can depend on weather conditions and how high the heater is mounted. Optimal mounting height is 84 inches or 7 feet.
How Does the HeatStrip Heater Work?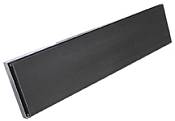 HeatStrip Patio Heater
Similar to the radiant heat rays emitted by the sun, a unique electric heating element emits rapid, even radiant warmth directly to individual people and surfaces below. Unlike traditional outdoor gas heaters, which aim to heat the surrounding air and can result in high temperatures close to the heat source and lower temperatures further away, the radiant heat emitted by the HeatStrip® penetrates through the air to provide a comfortable, even temperature directly to people and surfaces below the heater. The smaller 33 inch heat strip comes with a 5 ft. electrical cord and plugs into a standard 110V outlet, THE 220 VOLT HEATER DOES NOT COME WITH A PLUG AND MUST BE HARD WIRED By a qualified electrician. The heat strip must be used in a covered area when used outdoors.
Heat Strip Instructions Manual

Available in 2 sizes
THH1500SS : - 1500 watt - 115 volts - 33 1/2" x 6 1/2" x 1 3/4" - 14.5 lbs.
THH3200SS - 3200 watt - 230 volts - 76 3/4" x 6 1/2" x 1 3/4" - 30 lbs
Features of Heat Strip Radiant Heater - 76-3/4
Dimensions: 76-3/4 W x 6-1/2 H x 1-3/4 D
requires a 220V outlet
should be hard wired by an electrician
230 volts
3200 watts
Covers Approx an 8 Ft Diameter Area Per Strip
30 lbs.
No internal moving parts
Suitable for indoor or outdoor use
THE 220 VOLT HEATER DOES NOT COME WITH A PLUG AND MUST BE HARD WIRED.
Features of Benefits:
Radiant Heat = Gentle, Comfortable Heat
Efficient, Cost Effective Heating
No Internal Moving Parts = Silent Operation
Tough, Durable Stainless Steel Casing
Stylish, Subtle Slim Line Design


This item has been discontinued. We apologize for any inconvenience.
Last Updated: 02/02/2023 04:16 PM - ID:1657