Double EarthFriendly Rope Hammock
Recycled Polyester Rope Hammock

The Double EarthFriendly Rope Hammock is made from 100% recycled polyester fiber, which is made mostly from recycled plastic bottles. What a great way to add to your relaxation in a hammock by knowing that you are also helping the environment! The large rope is soft like cotton, but has the durability of polyester. The rope has just enough stretch to make your naptime comfortable and relaxing. Another environmentally friendly feature is that the wood spreader bars are finished with flax seed oil instead of varnish.
The Double EarthFriendly Rope Hammock is 54" wide and 84" long. The spreader bars are made of Canadian Hard Maple, and the hanging space required for this hammock is 12 to 13-1/2 ft. The weight capacity when hung properly is 350 lbs. The double hammock is available in white. Optional hammock accessories, as shown below, are great additions to your hammock experience.
Optional Hammock Accessories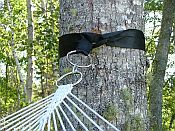 Hammock Hanging Kit
Tree friendly - will not damage the trees
Attaches hammock to any size tree, post, etc.
Contains 2 nylon straps, each 10' long & 2 quick links
Easy to use
Available in black


Hammock Pillow
Fabric: Sunbrella exterior, foam filled
Size: 12" wide x 30" long
Color: hunter green, natural, or navy blue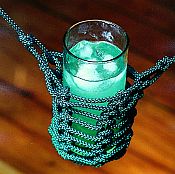 Hammock Drink Holder
Removable
Keeps your favorite beverage close at hand
Ties onto hammocks or swings
Features of Double EarthFriendly Rope Hammock
Made mostly from recycled soda bottles
Soft and durable
Wood for spreader bars is FSC certified and harvested locally from Wind Horse Farms in New Germany, Nova Scotia
Spreader bars are finished from organic flaxseed oil from a local oil producer
Size: 54" wide x 84" long
Hanging space: 12' to 13 1/2'
Weight capacity: 350 lbs
Spreader bars: Canadian hard maple
Color: White


This item has been sold out, and we do not plan to restock it. We apologize for any inconvenience.
Last Updated: 02/02/2023 04:15 PM - ID:4329