Home
> Malibu St. Tropez Picnic Basket
Malibu - St. Tropez Picnic Basket
Service for 2 from Picnic Time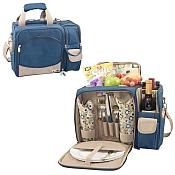 Click to Enlarge
The Malibu - St. Tropez Picnic Basket is the most convenient go-anywhere picnic pack you can find. Fully insulated, it's made of 600D polyester and comes with deluxe picnic service for two. The Malibu - St. Tropez features an insulated and divided wine section for two bottles and a removable water-resistant liner in the food storage area. Its amenities include: 2 plates (melamine, 9 inch, St. Tropez design), 2 tumblers (acrylic, 10 oz.), 4 napkins (100% cotton, 14 x 14 inches, St. Tropez design), 2 stainless steel forks, knives, and spoons, 1 hardwood cutting board (6 x 6 inches), 1 stainless steel cheese knife with wooden handle, and 1 stainless steel waiter-style corkscrew.
Whether you're looking for a great gift idea or planning to add some style to your next hike in the woods, romantic outing, or outdoor concert, picnic baskets by Picnic Time will exceed your expectations and needs. These picnic baskets are not only stylish, but functional with complete service for two. Buy one for yourself, and one to give as a gift.
Features of Malibu St. Tropez Picnic Basket
Tote dimensions: 15in. x 9in. x 11in.
Fully insulated
600D polyester
Deluxe picnic service for 2
Insulated and divided wine section for 2 bottles
Removable water-resistant liner in the food storage area
Set includes: 2 plates (melamine, 9 inch, St. Tropez design), 2 tumblers (acrylic, 10 oz.), 4 napkins (100% cotton, 14 x 14 inches, St. Tropez design), 2 stainless steel forks, knives, and spoons, 1 hardwood cutting board (6 x 6 inches), 1 stainless steel cheese knife with wooden handle, and 1 stainless steel waiter-style corkscrew
Last Updated: 02/18/2020 01:41 PM - ID:5187