WiseLifter™
Hook-n-Lift Turkey Lifter
If you have ever tried to wrestle a hot, cooked turkey from the grill or roaster to the plate, then the WiseLifter™ is the grilling tool for you! The WiseLifter™ is the perfect lifting tool for poultry (stuffed or unstuffed) and other large cuts of meat like ham, beef roasts, pork roasts, lambs, ribs, etc. The sturdy design allows you to carry the weight of up to a 30 pound bird in one hand! The WiseLifter™ has a pointed tip that embeds into the bird's breast bone and keeps the bird from moving or sliding off. With this wonderful tool, moving your deliciously grilled or roasted bird or other meat from one place to another is so simple and reliable.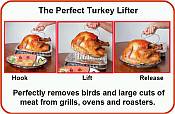 Click to Enlarge
Features of WiseLifter™
Lets you lift a turkey or other meat with one hand.
Sturdy and easy to use
Compact design fits into most kitchen drawers.
Made from surgical grade stainless steel
Custom made ash hardwood handle
Stainless steel hanging chain
Limited lifetime warranty
Measures 6.5" x 5.5" x 1.25"
Last Updated: 02/18/2020 12:11 PM - ID:3459