(Click to Enlarge)
WiseHooker™
Clean-n-Flip Grill Tool
If you have ever dropped your deliciously grilled steak into the coals, burned your hand while turning your chicken breast, or ended up with a gooey wire brush after cleaning your grill, then the WiseHooker™ is the grilling tool for you! WiseHooker™ is the ultimate grilling tool. The ingenious design combines the practical features of a tong, fork, spatula, grill cleaning tool, and grate removal tool. Its unique design allows you to clean the top, sides AND underside of the grate. It cleans better, safer, and cheaper than a wire brush.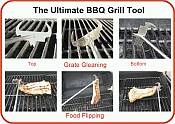 Click to Enlarge
The WiseHooker™ also helps you lift and turn food quickly. Even large cuts of meat are easy to turn without damaging the meat or resulting in accidental drops. The WiseHooker™ works great on smokers and most grills, including stainless, cast iron, porcelain, ceramic, gas, electric, wood, or charcoal. This is such a versatile tool that it works equally well for right and left handed people. It not only helps turn meats, but vegetables as well. It will not rust or corrode and is handmade in the USA from surgical grade stainless steel and hardwood handle. The WiseHooker™ makes a one-of-a-kind, very useful gift for the grill lover in your life.
C Featured on HGTV's "Living in Style: Grilling 'n Chillin': America's Favorite Pastime"
Features:
Multiple uses: grill cleaner, grate removal tool, tong, fork, and spatula
Great for backyard or professional barbeques, and for camping and RV gatherings
Includes a detailed instruction card
Comes with a copy of two favorite 3 Brothers BBQ Sauce recipes
Made of surgical grade stainless steel and has hardwood handle
Made in USA
Limited lifetime warranty on manufacturing defects and workmanship
Measures 18" in length
Last Updated: 07/30/2016 04:45 AM - ID:3458