(Click to Enlarge)
Solaire Anywhere Grill
Portable Infrared Grill
Don't you wish someone would make a portable grill that preheats in less than 3 minutes, cooks food in about half the time of ordinary grills, and produces the most flavorful food you've ever tasted?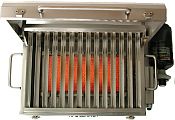 Overhead View
The Solaire Stainless Steel Anywhere Grill does just that. The Solaire Grill has all stainless steel construction -- you can even get this grill in marine quality steel with a rail mount for your boat. (Available with 316 model only.)
This remarkable grill uses disposable propane bottles, or it can be converted to a full 20 pound tank or even natural gas. It is light enough to carry anywhere you go, weighing just 20lbs., and it can be delivered right to your front door!
Using the same technology found in full size infrared grills, the Solaire Anywhere Portable Grill produces intense heat which quickly sears food, locking in juices and flavor. Most of the top steakhouses are using infrared burner systems because of the enhanced flavor and decreased cooking time. With shorter cook times, grilling for large groups is more convenient, and infrared grills cool quickly after use, making it easier to pack up and go when the party is over. You can also place the Solaire Anywhere Grill next to your conventional grill to get the benefits of infrared while keeping your current grill. Sear with the high heat of the Solaire Anywhere, then finish the grilling on your conventional grill. Cook on a Solaire Infrared Grill just once, and you'll never go back to an ordinary grill again.
Features of Solaire Portable Infrared Grill
Made of 20 gauge 304 series stainless steel
Cooking grids are 18 gauge 304 stainless steel
Dimensions: 21" W x 12" H x 13" D
Single infrared burner easily removed for cleaning
Push-button piezo ignition
Heats up and is ready to use in less than 3 minutes
14,000 BTUs of searing infrared power to lock in the moisture for superb flavor
Model SOL-IR17B constructed of type 304 stainless steel
Model SOL-IR17M constructed of type 316 marine grade stainless steel
Resistant to corrosion from salt water, making it the best material for use on and near the ocean
Cooks in half the time of conventional gas grills
Stainless steel V-grate grilling surface catches the drippings. The high heat vaporizes them back into the meat as more flavor.
Spring-loaded latches
Uses 1 lb. propane bottles
Run time over 1 hour per lb. of propane
Burner removes for easy, thorough cleaning
Includes custom carrying bag with three outside pockets for propane bottles
Weight 18.5 lbs (20 lbs. w/bag) (shipping weight 26 lbs.)
Grilling area: 155 sq. inches
Warranty:1 year on burner, 90 days on all other parts and labor


This item has been discontinued. We apologize for any inconvenience.
Last Updated: 02/04/2019 01:45 AM - ID:1889