(Click to Enlarge)
GardenGlo Solar Lighted Planters
Outdoor Lighted Planters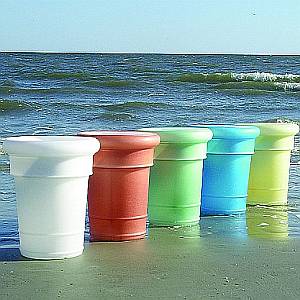 Beautiful, weatherproof, GardenGlo Lighted Planters are a fun and practical way to bring ambient light and natural beauty to any of your outdoor spaces. GardenGlo Lighted Planters give you the freedom to be creative, too. Use it as a decorative ice chest (bottom plug not included) for parties, picnics, and family get togethers. Or, fill the planter with attractive shells or stones, top it with a piece of round beveled glass, and use it as a funky side table on the patio or deck. The creative possibilities are endless!
The Solar Powered Planters measure 21" diameter x 20" tall, are constructed of clarified resin, and come in a variety of vibrant colors. The solar powered planter comes with a separate solar control unit that can be mounted to a ground stake for positioning in direct sunlight to power 6 super bright LED bulbs. Control unit has on/off switch with auto on function at dusk. Includes 6AA rechargeable batteries. LED bulbs last 30,000 hours. GardenGlo Lighted Planters can also be plugged into one another for running in series.
GardenGlo Lighted Planters bring a unique touch to your outdoor living areas, but they can also be used indoors. No matter where you decide to use your lighted planters, they will add style and character to your home.

FEATURED IN THE JULY 2009 ISSUE OF "REAL SIMPLE" MAGAZINE!
Features of Solar Lighted Planters
Overall dimensions: 21" diameter x 20" high
Inside dimensions: 13 1/2" diameter x 18 3/4" deep
6 LED bulbs
Control unit with on/off switch and auto on function
Includes 6AA rechargeable batteries
Available colors: Green , Terra Cotta, and Lemon
Last Updated: 02/04/2019 01:41 AM - ID:706