Primo Color Choices
9ft Umbrella Canopy Fabric Colors
These are the fabric styles and color choices for the Primo Market Umbrella for 2009. Please note that this is a general reference page for umbrella canopy colors that are availble for Wanda Tech umbrellas. Every color may not be available on all Wanda Tech umbrellas. Umbrellas with Sunbrella canopies usually ship in 2 to 3 weeks.
Special orders can be made for any Sunbrella Fabric style Non stock canopy orders are by special order only and will incur an additional cost, usually ranging from $60 to $90 depending on the type and style Sunbrella fabric. Please allow 3 to 4 weeks for special canopy orders to ship. All Special Order sales are final, no returns can or will be accepted.
SunDura Fabric Styles & Colors
The SunDura canopy is a polyurethane coated fabric which has a high strength-to-weight ratio. All SunDura canopies come with a white vent top and white trim. SunDura is a 100% yarn dyed fabric, and the material is strong given its thickness and weight. SunDura is colorfast, resistant to chemicals and can be easily washed. SunDura Polyester canopies should retain their color for a year at least, depending on daily sun exposure and intensity. SunDura Fabric is a 10oz/square yard of fabric, which is one of the thickest in the industry. The PU coating provides extra water repellent features and is able to withstand stronger water pressure than the poplar Scotchguard treatment used in the sofa and cushion industry. This fiber is quick drying, abrasion resistant, and a low cost, durable fabric. It is similar to Awning and Marine grade fabric treatment and has a very strong water resistance. It has a clear soft coating on the surface to protect the fabric which also gives the canopy extra UV protection. 1 Year Warranty.
Sunbrella "B" Fabric Styles and Colors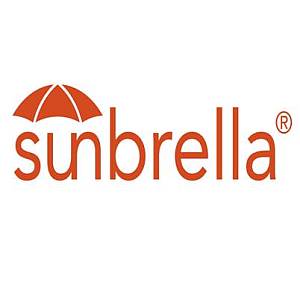 Sunbrella's world famous brand of outdoor fabrics make life easy. Most are Fade-resistant, stain-resistant and livable. Sunbrella's fabrics are worry-free and incredibly long lasting. From the bright sun to greasy meatballs, Sunbrella fabrics are tough enough to withstand the extremes of Mother Nature along with all the little accidents that come from everyday living. Sunbrella's rich fabrics will remain beautiful summer after summer, spill after spill. Indoors or outdoors, Sunbrella fabrics are versatile. Whenever you need the best quality outdoor fabric for your awning, furniture or umbrella, Sunbrella fabrics can make it happen with quality style and flare. Sunbrella fabrics are durable, beautiful and comfortable. 3 Year Warranty.
Sunbrella "A" Fabric Styles and Colors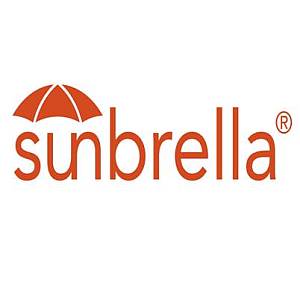 From elegant weaves and subdued hues indoors to fabulous, festive colors and patterns outdoors, Sunbrella furniture fabric offers incredible resistance to stains, weather and wear no matter where it's used. It's the ideal solution for easy living. These fabrics are more intricate and take longer to make, thus costing a bit more. 3 Year Warranty.
Color Disclaimer: We have made an effort to provide fabric Images that closely represent the fabric colors. However, due to all the possible variants -- light source, monitor type & quality, etc. -- we can not guarantee that the fabric Images accurately represent the true fabric colors. Please take this into consideration if you are trying to color match materials.
Last Updated: 02/18/2020 01:51 PM - ID:624