(Click for Larger View)
Beach Umbrella - 7.5ft - Fiberglass Ribs, Wood Pole
FiberBuilt® Umbrella Suitable for Commercial Use
Tired of having your beach umbrella become useless due to broken or bent ribs in windy conditions? This beach umbrella has fiberglass ribs that allow
(Click to Enlarge)
the ribs to flex in higher wind conditions. It has been tested to withstand
winds up to 50mph.
In wind tests conducted by the University of Miami, it was concluded that the fiberglass ribs bend & flex during winds that would normally break the ribs or the pole of an umbrella made with different materials.
The wood pole is now available in Natural Ash (Light Wood) or Medium Cherry (Darker Wood) and is one of the best wood poles available. The tip is pointed to make it easy to drive the pole into the sand.
The standard canopy is made of a marine grade, solution dyed acrylic with the option to upgrade to Sunbrella B fabric. Comes with a single vent and a valance and is available in a variety of styles and colors.
This umbrella is Proudly Made in the USA!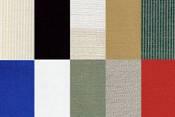 View FiberBuilt Fabric Choices
Click image to View

Features:
Fabric: Standard fabric is a marine grade, solution dyed acrylic. Optional upgrade to Sunbrella B fabric
Pole Color:Natural Ash (Light Pole) or Medium Cherry (Dark Pole)
Overall Height: 87 inches
Pole Diameter: 1 3/8 inches
Canopy Size: 7.5 feet
Canopy comes with single vent and valance
Lift: Manual push up held with stainless steel spring
Molded nylon joints, hubs, and end tips
Rust resistant hardware
8 Ribs
Fiberglass Ribs: Tested to 50 MPH
Warranty: 5 years on the canopy, 3 years on the ribs, & 1 year on the pole
Optional Carry Bag Has 1 strap, bag will match canopy color
Last Updated: 02/09/2018 01:56 PM - ID:637