(Click for Larger View)
Custom Vinyl Tarp - Fort Canopy Tops
Replacement Cover for your Playset, Fort or Swingset
Looking for a custom size or color tarp to fit your existing swing set or fort? BackyardCity.com can make custom tarps or canopies of virtually any size / color combination that you desire. Only the best materials are used to make our tarps. All materials are UV protected, waterproof, weather resistant and made to last.
All stripes will be made equal widths and run length-wise unless specified otherwise. Also the color sequence should be noted clearly.
Examples of the styles and color of the canopies.
"Blue" - a solid Blue Canopy Tarp made to the dimension supplied.
"Green/Tan, Stripes on Width 2 Stripes Canopy Tarp" - stripes running the width wise. Half Green and Half Tan
"Red/Yellow/Green" - A canopy tarp with 3 equal stripes running length-wise, One-third Red, Middle-third Yellow and one-third Green Canopy
"25% /Blue-50% Green/ 25% Blue" - 3 Stripes running length-wise One-Forth Blue, Middle half Green and One-Forth Blue Canopy
"20in Stripes alternate Red & Yellow (Width= 100 inches)" - Canopy Tarp with 5 x 20 inch wide stripes alternating Red & Yellow .
Please call for quotes on unusual custom tarps and canopies
15oz Solid Vinyl Stock Colors
(click to enlarge)
NOTE: Please make sure you supply accurate measurements and descriptions. Finished canopy will be accurate to within 1 inch. A signed diagram or drawing showing the necessary measurements, colors, fastener selection & placement may be required upon request for all custom orders!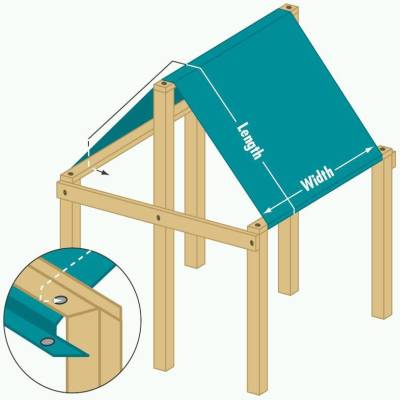 How to Measure
(Click to enlarge)
Since we custom make these tarps to your specifications, All sales are final. No refunds, returns or changes can or will be accepted once we start making your custom vinyl canopy tarp.
Custom Canopy orders placed via a phone call, may require a detailed diagram with measurements, color, snaps or grommets and any other necessary information along with a signature before the order will be sent into production.
Custom Canopy/Tarp Ordering Form
All Faxes should be sent to 901-531-8145 or you can take a pic of it with your smart phone and email it to email at bottom of page.
Features:
15 oz Marine Grade Heavyweight Vinyl is the THICKEST IN THE INDUSTRY
Triple layered construction with nylon mesh center, laminated for superior strength
Weather Resistant & Mildew Retardant
Full UV Protection
Strongest Stitched Seams - Not heat sealed which may come apart
Your choice of fasteners: Stainless Steel Snaps with screw studs or brass grommets.
(95% of all requested tarps have snaps on the width!)
Fasterners will be positioned evenly about 12-16 inches apart depending on the length of each side.
Colors: Green, Blue, Yellow, Red or Tan available.
Can be made to fit most major manufacturers swing sets, including Rainbow Play Systems, PlayNation, Swing-N-Slide, Plan-It Play, BYO Swingset, Detailed Play Systems, and nearly any other wooden swing set mfg. (We are not affiliated with, endorsed by or sponsored by any of the mentioned companies.)
To determine the square footage of your canopy, multiply the length x width in inches, then divide that total by 144. Use this number to select the proper Square Footage in the drop down box below. All orders with incorrect square footage will be placed on hold and notified of error.
Last Updated: 07/12/2018 08:28 PM - ID:298