(Click to Enlarge)
Settler 3 Position Wooden Swing Set
Free Standing Swing Beam Swing Set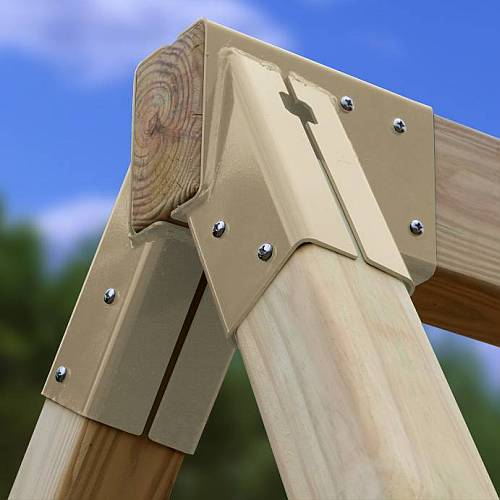 Metal End Braces
3 position Settler Swing Beam Kit comes with all the hardware, swing hangers and swings. Purchase your lumber locally, assemble the kit and your children can be swinging the day away. The Settler Kit comes with complete easy to follow instructions and can be put together in one short afternoon. The Free Standing Swing Beam Kit uses two 20,000lbs tested 7 gauge (the smaller the gauge the better) hot hammered steel A-Frame brackets with 2 horizontal and 2 diagonal wood Legs. This greatly reduces any side to side movement. See the metal brace to the right.
The swing beam can safely support weights up to 900lbs! All hardware is galvanized to better weather the elements and ensure years of play. Swing hangers are the heavy duty Iron Ductile

Settler Swingbeam Footprint
The 3 position Settler Swing Beam has a foot print of 14'W x 10"D x 8'H. You can have your choice of swings: Belt Swing, Trapeze/Rings, Bucket, Half Bucket, and more. The Settler Free Standing Swing Beam Kit is the perfect Do-It-Yourself afternoon project. Can be easily modified for 1 or 2 swing positions or even a porch bench swing.
Kits include everything EXCEPT THE WOOD to build this swing set. Wood is NOT included. Click to see the Settler Wood List. Estimated wood cost of $70-$95.
Last Updated: 01/01/2017 12:27 PM - ID:433