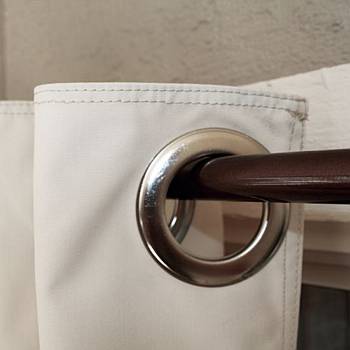 Outdoor Designer Curtain Panel - Parchment
Grommet Top Drape provides excellent Privacy
These stylish exterior curtains provide shade, privacy and wind control. Designed to enhance any outdoor space from a pergola, gazebo, patio or deck,to enhance any outdoor space. This exterior curtain blocks heat, filters light and provides daytime privacy. The UV stabilized fabric is constructed from high density polyethylene tapes using a lock stitch knit pattern to block up to 90% of harmful UV sun rays.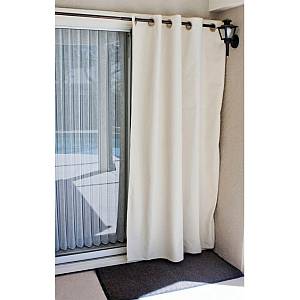 Dark Linen Curtain
Coolaroo high performance exterior grade Xceltex Poly-Olefin fabric with chrome plated grommets and UV resistant exterior grade thread. Fabric features superior resistance to molding, fading and is resistant to chlorine bleaching so is perfect for privacy near a spa.
Coolaroo manufacturer 5-year limited warranty. Coolaroo Xceltex curtains have a width of 60 in which provides coverage up to 50 inches when hung on a rod. Choose a length of either an 84 or 96 inches.
The curtains also come with coordinating tie backs.
Features of Exterior Grommet Top Curtain - Parchment
Width: 60in - 50in Coverage
Height: 84in or 96in Tall
Coordinating Tie Backs Included
The fabric is easy to clean
Resistance to molding; fading and to chlorine bleaching
Coolaroo uses our exterior grade Xceltex Poly-Olefin Fabric
Chrome Plated grommets and UV resistant exterior grade thread
Up to 90% UV Block
Super for Privacy
5-Year Warranty
Last Updated: 02/18/2020 12:20 PM - ID:6727