Tabletop Series Mini Moonshadow Fountain
Waterfall with Natural Slate Panel and Dark Copper Frame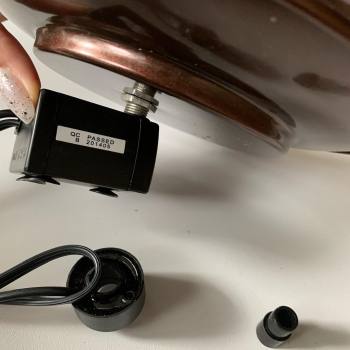 The Mini Moonshadow Fountain from the Tabletop Series is an elegant and beautiful waterfall to enhance any room. This waterfall features a Slate Panel with Dark Copper Frame and accent light to add to its beauty. The smaller size of the this fountain is a work of art adding beauty to any room and providing a peaceful and calming effect. The reservoir is made of aluminum with a dark copper powder coated finish and frame. The Mini Moonshadow Fountain includes an intake filter, polished river stone, light, and inline micron filter. Dimensions are 12"H x 12"W x 12"D.
Mini Moonshadow Foutain Instruction Manual
Features of Tabletop Series Mini Moonshadow Fountain
Height: 13"
Width: 12.5"
Depth: 12.5"
Slate Panel with Dark Copper Frame
Polished River Stone
Accent Light
Submersible Pump Inline Filter
Adjustable Flow
12" Electrical Cord
Warranty: Six month Manufacturer's Limited Warranty for fountain, 6 months for pump
Last Updated: 10/08/2021 09:09 AM - ID:3374