(Click to Enlarge)
The Portable Kitchen Charcoal Grill
Cast Aluminum Charcoal Grill and Smoker
Have you had it with those cheap sheet metal cookers that burn out in no time? Then try the Portable Kitchen® Cast Aluminum Charcoal Grill and Smoker! This grill has been treasured for almost 30 years and now this last-forever cooker is making a come back. The Portable Kitchen Grill and Smoker is constructed of heavy cast aluminum that does not rust and reflects heat from all surfaces causing the food to cook more evenly without constant turning or repositioning on the grill. Controlling the temperature and reducing flare-ups from dripping fat is easy with the adjustable vents in the lid and dampers under the fire. The hinged grid allows easy refueling, without removing food, and there is a side and a bottom tray for holding food or utensils. Once the lid is lowered, the food cooks evenly, bathed in smoke for an unforgettable charcoal-fed hickory smoked flavor. We offer the 16in. x 11 5/8in. Cook More Grid that can be attached to the hinged grid and nearly doubles the cooking area of your Portable Kitchen. Includes complete instructions, including recipes.
Protect your investment from the elements with a custom designed Portable Kitchen Cover.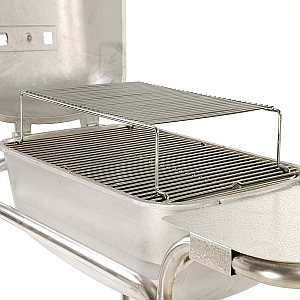 (Click for Larger View)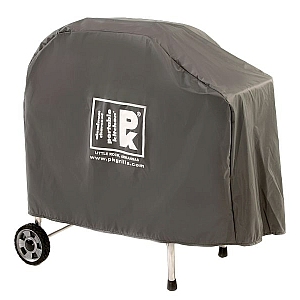 (Click for Larger View)
Features of Portable Kitchen Charcoal Grill
Functions as a grill and independent cooking roaster without flare-ups!
Four adjustable vents and dampers (two top and two bottom) control temperature.
Oven detaches from carriage for easy cleaning, camping and tailgating.
All aluminum construction will not rust.
Made completely in the USA
Some Assembly Required
Hardware is Stainless Steel
Measures 35" x 35" x 16.5"
Weighs 50lbs.
5 Year Manufacturer's Warranty
Last Updated: 02/04/2019 01:45 AM - ID:3354