(Click to Enlarge)
Serrano 7-1/2 Foot Floor Waterfall - Heron
Indoor / Outdoor Waterfall with Heron Etched Glass with Onyx Frame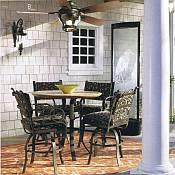 Click to Enlarge
The
Serrano 7-1/2 Foot Floor Waterfall
This contemporary style water fountain is a versatile and decorative waterfall. The fountain's water appears to dance as it flows down the glass panel. This elegant, soothing waterfall can be used outside in the garden, on the patio, or near the spa, and it is a perfect complement to any décor.
The Serrano 7-1/2 Foot Floor Waterfall is unique in that it is a self-contained working system. Features include stainless steel and tempered glass construction, a filtration system, independent adjustable flow, and weatherproofing features. The system has been engineered for years of reliable, continuous duty in any environment. Each Serrano Waterfall is designed with splash free engineering.
Click Here to View Instruction Manual and Warranty Information
Features:
7-1/2 Foot Floor Waterfall
Heron Etched Glass with Onyx Frame
Indoor/Outdoor Low Voltage Waterfall Lamp
Height: 90 in
Width: 32 in.
Depth: 18 in.
Indoor/Outdoor Waterfall
Quiet, submersible pump
Tempered glass
6 foot power cord, 110 volts
1 year manufacturer's warranty


This item has been discontinued. We apologize for any inconvenience.
Last Updated: 02/09/2018 02:00 PM - ID:3334