Home
> Mosaic Umbrella Base - 75 lbs

(Click to Enlarge)
Mosaic Outdoor Umbrella Base - 75 lbs
Umbrella Table Bases Made By Galtech Umbrellas
These Galtech Mosaic Umbrella Bases make a very decorative addition to your patio umbrella and are very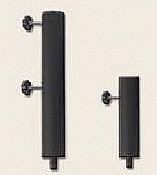 durable. They will give your umbrella heavy duty support with a resin and concrete design. Beautiful bases that will last for years to come due to their resin-hardened composite design. This base comes with the 13 inch long tube which has a 1-5/8" diameter for umbrellas with up to a 1-5/8" diameter pole. This base is designed for a stand alone umbrella.
Features:
Available size: 75 lbs.
Diameter: 24 inches
Powder Coated and Anti-Rust Primed.
13 inch Long Tube
Protective Feet on Base.
Multiple Size Bushing Included.
Tube for umbrellas poles up to 1-5/8" in diameter
Will accommodate an umbrella pole up to 1 5/8" Diameter
Last Updated: 02/09/2018 01:54 PM - ID:572