(Click to Enlarge)
Brella Vases - 5 Inch
Patio Umbrella Table Centerpiece Vase
Brella Vase
lets you "bring the beauty of fresh flowers to your patio table" by creating a patio table centerpiece. This wonderful patio table vase allows you to create a decorative accent centerpiece with ease even with an umbrella pole. A two piece vase from Blue Star that simply locks around your umbrella pole and lets you add fresh flowers to your patio table. The two watertight vase halves also unlock easily for removal.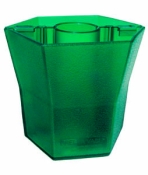 These vases are 5 inches in height and come in your choice of eight beautiful colors. Composed of high-impact plastic, the Brella Vase is safe in the dishwasher and durable for long life. Each vase has been stabilized for extended outdoor use and will not fade when left in the sunlight. Great for weddings or a neighborhood party, these vases can hold flowers or festive napkins and plastic ware. You can use your Brella Vase for a family event or just a gathering of friends.
Features:
Height - 5 inches
Width - 5 inches
Two watertight vase halves that lock together
Available in 4 opaque and 4 translucent colors
Dishwasher safe
Will not fade
Creates decorative centerpiece for outdoor events and weddings


This item has been discontinued. We apologize for any inconvenience.
Last Updated: 02/09/2018 01:54 PM - ID:2560