(Click for Larger View)
Sandlock 10ft x 10ft Sandbox Kit with Cover
Made with Commercial Grade Solid Recyclable HDPE
The interlocking Sandlock&reg 10ft x 10ft Sandbox Kit is great for children of all ages to play, imagine and create. Build your child their own backyard beach so they can have their own special place to spend time and develop their imagination. These Sandbox Kits are easy to assemble with their interlocking corners and are made of high density polyethylene which is a commercial grade plastic that is UV stabilized. This material wont chip, crack, break or splinter. Each kit comes with a ground barrier to keep the sand from laying directly on the ground and the 10 ft x 10ft kit also includes four corner seats, one bench seat, and a heavy duty, Coverlock cover.
Optional Accessories


Bench Seat
10"W X 42"L
Weight limit 400 lbs


Deluxe Umbrella
60" Span w/vent
Tilting Post


Corner Seat
10"W x 20"L
weight limit 275 lbs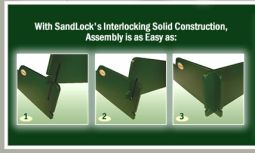 Interlocking Sandbox Assembly
(Click to Enlarge)
Temporarily out of stock until Mid-Late July!
Features:
Made with HDPE (high density polyethylene) Commercial grade solid plastic
Eight 10" x 59" interlocking panels with couplers
5000 lbs sand capacity - Recommended about 4000 lbs
4 Removable Corner Seats
1 Removable Bench Seat
Ground Barrier: One piece woven fabric panel keeps sand and ground material separate
Coverlock Cover with Vents
1 Year Warranty, 2 Years if you Register your order
Inside Dimensions: 118in L x 118in W x 10in H
Last Updated: 02/09/2018 01:52 PM - ID:4967