(Click to Enlarge)
Tiki Bar with Thatched Roof and Stool Set
Peanut Style Bar and Stool Set
This Tiki Bar and Stool Set will make entertaining in style easy and comfortable. This tropical style bars unique peanut shape fits beautifully in smaller spaces, and its classic style can enhance a patio, deck, balcony, or sunroom of any size. The Peanut Bar measures 94" tall overall, 76" wide, and 34" in deep.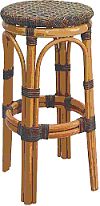 Click to Enlarge
The bar has a Thatched roof, convenient shelf underneath for storage, and a wine glass rack under the canopy. The 4 stools included with the set are 29" high, have padded seats, and convenient footrests on all four sides for additional comfort. Some assembly is required.
This peanut shaped Tiki Bar and Stool Set is hand crafted from durable Polyveen, which is recyclable, fire resistant, and easy to clean. Polyveen mimics the natural beauty, character, and vibrant color of bamboo. This is an all-weather, durable product capable of withstanding tropical sun & rain without rotting and retains a robustness that bamboo cannot provide.
The Tiki Bar and Stool Set with Thatched Roof will quickly become a venue to gather friends and family whether it be a large party or an intimate gathering.
Features:
Bar/Hut Dimensions: 94"H x 76" x 36"D
Stool: 29" Seat Height with 13" Seat Depth
Constructed of durable Polyveen
Polyveen imitates the look and feel of real Bamboo
Bar has unique Peanut shape
Storage shelf and wine glass rack
6 Month Limited Warranty
Some assembly required


This item has been discontinued. We apologize for any inconvenience.
Last Updated: 02/09/2018 01:35 PM - ID:2871