(Click for Larger View)
Americano Rocker
Resin Wicker Outdoor Patio Furniture
The Lifetime Collection™ from The Royal Teak Collection is an alternative to teak. This collection is an all-weather wicker that, like teak, will last for generations. The maintenance-free furniture is made of durable, non-fading materials, with both Scandinavian contemporary and classic designs. All of the furniture pieces are made with great comfort in mind. The wicker, a synthetic resin, is colored throughout, both dirt and insect resistant, and feels and looks like wicker. The framing is made of powder-coated aluminum for extra durability and protection from rust, even in extreme weather conditions. Because it is lightweight, this all-weather wicker is easy to move around to fit your needs. The beauty and durability of these furniture pieces will make them a treasure for years to come.
The Americano Rocker has a truly classic look yet is comfortable and durable. The rocking chair is made of weatherproof all weather wicker woven over powder-coated, rust-resistant frames. The rocker is available in nature wicker with mocha cushions (included) or coffee wicker with cream cushions (included). This chair is perfect for relaxing on your patio, by the pool, or in your sunroom. The Americano Rocker will provide years of enjoyment, luxury, style, and comfort.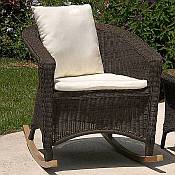 Coffee Wicker & Cream Cushions
All Royal Teak furniture is backed by a 3 Year Warranty
Features of Americano Rocker
All weather, dirt and insect-resistant wicker
Long-lasting, powder-coated aluminum frame
Frame resists rust
Stylish, classic design
Comfortable and durable
Lightweight
Designed to withstand frequent use & harsh elements
Maintenance free
Cushion included
Furniture Color: Nature or Coffee
Cushion Color: Mocha (with Nature wicker) or Cream (with Coffee wicker)


This item has been discontinued. We apologize for any inconvenience.
Last Updated: 02/04/2019 02:24 AM - ID:4316