(Click to Enlarge)
Hammock Frame Kit
Durable Epoxy Powder Coated All Weather Arc Wooden Frame
With the Outback Arc Hammock Stand, your relaxation spaces have no boundaries. Outback Chair Company frames are designed for indoor and outdoor use. All hammocks fit in this hammock stand, and because our frames don't require beams, overhangs, or conveniently located trees, you can set them up wherever your imagination takes you. Just put together the easy-to-assemble frame, pop in your chair or hammock, and in no time, you'll find yourself sitting pretty. No holes, no screws, no sweat.
This kit includes the connectors and caps to create your own hammock stand. You provide the wood.
Wood Requirements:
To assemble each kit, you will need to purchase one 8ft 4 x 4 piece of wood for the base, one 8ft 4 x 4 piece of wood cut in half for each upright post, and one 8ft 4 x 4 piece of wood cut into four 2ft pieces which will be used for the legs. The directions for assembly come in the box. Any type of wood is acceptable. Please keep in mind, though, that pressure treated lumber will last longer when used outside. We recommend staining the wood first with the stain of your choice.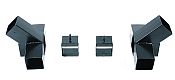 Features:
Connecter - overall dimensions: 13.4 x 9.3 x 8.3 inches
Cap: 5.3 x 3.9 x 3.1 inches
Kit includes HARDWARE ONLY
Kit does not include wood
Hanging hammock hardware is not included


This item has been discontinued. We apologize for any inconvenience.
Last Updated: 02/09/2018 12:49 PM - ID:1890