(Click for Larger View)
SunSetter Vista Awning - 10ft
Manual Retractable Awnings
The Vista Awning is the largest SunSetter manually-operated awning. This is the most popular manual SunSetter awning and it offers you maximum coverage for a great price. Vista offers a manually operated awning that extends out a full 10 ft. 2 in. from your house which provides up to 23 square feet of shade and protected area! This model requires no electricity.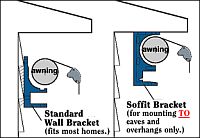 Awning Mounting Brackets
You open this awning using a simple hand crank that operates smoothly and quietly and opens the awning up fully in less than a minute.
The floor and wall mountings have been improved while the awning has improved fabric tensioning. These awnings are a joy to use and last even longer than before. You'll find them easy to use. Your awning comes with pre-drilled holes to make accessory attachment simple. You will get excellent sun and rain protection with this awning for a great price!
Features of SunSetter Vista Awning - 10ft
Awning width 10ft and extends from wall up to 10ft 2in
Twelve decorator canopy colors to fit every home.
Minimum vertical height under overhangs needed for installation: 7 ft.
Individuals can install these awnings in about 2-3 hours.
Can be installed on wood, brick, stucco, aluminum and vinyl siding.
Can be installed directly on eaves and overhangs with special brackets.
Requires no electricity.
5 Year Limited Warranty.
90-Day No-Risk Home Trial
Available accessories: Weatherbreaker Panels, Patio Lights, Awning Cover, and Floor Mats.


This item has been discontinued. We apologize for any inconvenience.
Last Updated: 02/04/2019 01:35 AM - ID:476